By Zonya Jeffrey
One thing that always puts a smile on our faces when we talk about Tanzania is the food! The fusion of the East African and Arab style cooking makes such fabulous cuisine.
I often get asked "What was the food like in Tanzania?" "Did you miss your home comfort foods?" "Don't the Massai drink cow's blood? Did you?"
Tanzanian cooking is absolutely fascinating. Using traditional methods to create amazing dishes that would act as a snack or feed a family or cater for celebratory functions like weddings
It is not uncommon to eat out for breakfast at a local food stall in town on the way to work.  Ugi (a watery porridge) or chapatti and chai (tea) are classic breakfast uptakes. Or mandazi and chai- lovely bite sized slightly sweet doughnut-esque treats for those that have a sweet tooth! If you are feeling like something with a little more substance, then a couple of samosas might do the trick! Everything freshly made that morning.
You won't find a full English or Continental breakfasts in rural areas like Ifakara. The closest you would get is Omelettes or boiled eggs, toast and if you are lucky, crepe pancakes with local honey. All very delicious, I might add.
Though traditionally in Tanzania, women tend to dominate the cooking at home, you do see the men selling fresh fruit around towns on the mobile units and setting up their barbecue stands as the sun sets and the evening arrives. Chicken and Mishkaki (spicy beef kebabs) tend to be the meats of choice. When in season, locally grown corn on the cob is seen in abundance roasting on the street barbecues
The aroma of the barbecuing food lingers in the air until bedtime
When I first arrived in Tanzania, prior to starting my placement, during my in-country language and culture training sessions I remember we had cooking lessons. We went shopping to buy the local produce from the market and then returned to the kitchen for the laborious task of preparation.
Rice had to be sifted for unwanted husks and stones; whole chicken needed to be killed, plucked and gutted. All vegetables were washed, peeled and chopped.
We made some interesting and tasty dishes including the Tanzanian staple Ugali which is a stiff polenta like substance made from maize flour. This is usually eaten with vegetables or meat and sauce. I personally think ugali is rather bland but it is a cheap and nutritious staple.
Traditional Tanzanian cooking in rural areas often occurs outside and always involves fresh and usually locally grown ingredients.
The cook will set up a barbecue grill and coal stove outside to cook delicious dishes from tasty Zanzibar style pilau rice which is aromatic spiced rice with cubes of beef), to green bananas & beef. From spicy fried fish to coconut kidney beans and rice! These are my favourite of traditional home cooked meals.
Homemade traditional Tanzanian food can take some time to prepare and cook. As microwaves and electric or gas ovens are not always found in your typical Tanzanian home, the use of 'hot-pots' are common. These are thermal-insulated food storage pots that will keep food hot for several hours. Families will usually have a large pot for rice or ugali and smaller pots for both meat or vegetables and sauce. A Tanzanian kitchen is not complete without at least one 'hot-pot'. They came in handy when serving Christmas dinner in Ifakara. Andrea and I even have our very own that we occasionally use in here in the UK!
On our last visit to Tanzania, Andrea and I were lucky enough to have our friend, Ernest, show us how to cook some traditional Tanzanian dishes. These included Kitimoto (deliciously seasoned sautéed pork), Mishkaki, majani ya maboga (pumpkin leaves 🎃 🍃 mixed with grated fresh coconut), Zanzibari pilau rice and ndizi kaanga (fried green bananas).
We watched him prepare these dishes and dined al fresco on the feast of scrumptious delights. The food was absolutely amazing!
For dessert was a HUGE orange that has green skin! Tanzanians don't really eat cake for desserts. Mainly fruit. It was such a difference to eat fruit freshly picked from the tree or fallen as they become ripe. This was something we missed when we left.
Though home cooked meals are very common and the most usual way families share meals, local fast food is available. Not like the usual KFC or McDonalds, Tanzanian fast food is commonly cooked outside but often inside too in the larger towns/cities.
Chipsi mayai
Chips omelette has been one of the popular fast food snacks in Tanzania since the 1980's. It is tasty, very filling, inexpensive and a very popular lunchtime meal. When I am feeling nostalgic, I will whip up a plate of chipsi mayai and eat it with fond memories rushing back!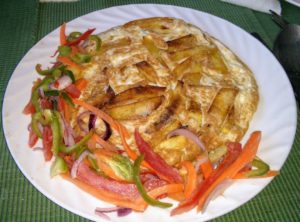 I cannot mention fast food snacks without talking about Zanzibar pizza- only found when you take a visit to Forodhani Gardens night market in Stonetown. It is just the place to sample such culinary delights. There you will find a fusion of Arab and African cooking to make a unique East African style.
Both tourists and local families come out together to enjoy these freshly prepared evening meals.
The ambience is wonderful. The chatter and the bartering banter of the vendors when you are choosing what to eat that evening is always fun. A good place to practice the local greetings!….. 'Jambo!'😉
The market serves that day's fresh fish and local meats to produce tasty Kebabs.
Mouth-watering juices 🍺are made with your choice of fresh fruits.
Zanzibar Pizza
The first time I saw the preparation of Zanzibar pizza, it made me question the snack even more, but it intrigued me so much that I did not hesitate in trying a sample from my fellow volunteer, Andrew.  I was hooked after that taster.
Now this is a real concoction of ingredients you would not usually put together. BUT it really does work.
Dough, Pastry, mince beef, mixed peppers & onions, chilli (optional), 'laughing cow' triangle cheese and an egg! Yes a raw egg mixed in!
There is a veggie version without the beef and a sweet version that includes Nutella or banana or Snickers.
Watch our video of how Zanzibar Pizza, the delicious classic favourite is prepared.
When in stone town in Zanzibar, we always go to Forodhani Gardens for our evening meals and to just relax and soak up the east African coastal atmosphere.
It is just amazing hearing the crashing of the waves as we sit 'al fresco' in the ambient temperatures and eat our fresh fish kebabs and Zanzibar pizza, washed down with sugar cane juice.
If you visit Zanzibar, be sure to take a browse around Forodhani Gardens and try the Zanzibar Pizza. Mmmm my mouth is watering now…😋
Fancy having a stab at making your own mandazis or chipsi mayai? Click here for a copy of these recipes so you can wow your friends and family with these impressive Tanzanian snacks.